When using the information on these pages for your work please note the following terms and conditions. By using any of the information presented you accept these terms. Thank you!
Restoration Projects Philosophy
The purpose of many restoration projects described here is to bring the antique equipment back into working condition close to original specifications while generally preserving their historic electronic and mechanical design. This means that often new components (e.g. capacitors) need to be used - in many cases NOS will not do - which sometimes require small mechanical modifications to the set.
This treatment does not conform to "museum" standards that require everything to be left or restored to original. This is an entirely different approach. It is up to you to decide what you want to do.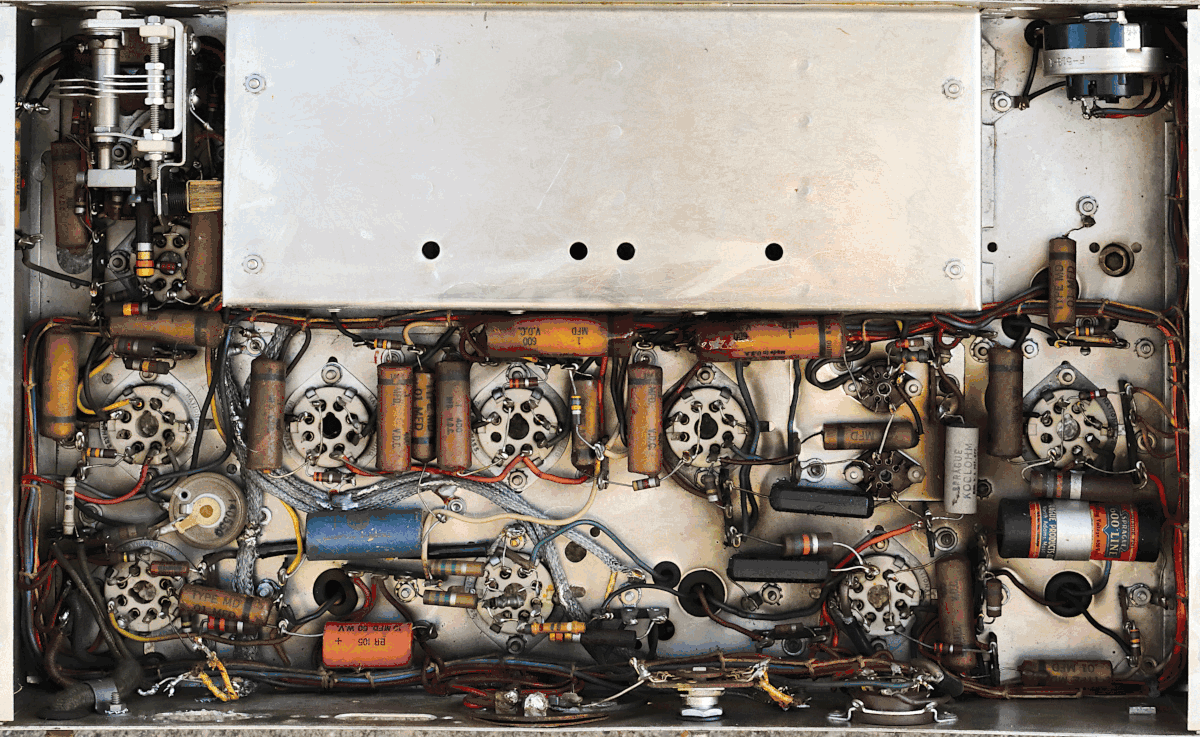 A dynamic example what this process looks like - here on my HRO-7T.
Modifications and Homebrew Projects
The projects shown are for information only with the main goal to motivate fellow amateurs and hobbyists to start on similar projects. Comments for improvements are always welcome. They are always "prototypes" and not a kit. You'll have to find your own parts. No warranty is given nor implied that they actually work in your situation. And please note that a modified piece of equipment looses its collector value - but brings joy to its successful operator!
Documents
Most of my documents containing text, pictures and diagrams are presented in a easily printable form as PDF files rather than as HTML pages which are often not printer-friendly. To see or print the pages you will need a PDF viewer. The format used is usually A4, some large diagrams are better printed A3 or in the "poster" mode of the PDF viewer.
Copyright
Some of the circuit diagrams and manual pages used and edited are covered by copyrights of their original publishers and intended here for personal use only. No complete manuals can be found, there are already many sources on the web for this purpose. My personal designs are covered by the GNU licence agreements. Pictures and other documents may not be republished without indicating the source.
Regulations
Many of the described obsolete radios (or computers) no longer fulfill today's requirements for e.g. electrical safety, used bandwidth, levels of harmonics, spurs or intermodulation. While at times suitable corrective action is included in my descriptions, many times it is not. It is your responsibilty to make sure your equipment conforms to the requirements in your own country.
Safety while Working on the Projects
It is your own responsibility and all-important to always observe proper safety procedures in your work. Some of these projects - certainly almost all vacuum-tube circuits - involve high voltages, some lethal indeed. Make sure you understand what you are doing or else get some qualified help here. Just look at this page to see some tips on this one. Always "Switch to Safety" when you work on your equipment!
Please pay attention to proper grounding of all metal chassis and enclosures and consider the use of GFCI breakers to your shack/workbench.
Liability
This website is published on an "as-is" basis, without warranty of any kind either express or implied, including but not limited to the implied warranties of merchantability, fitness for a particular purpose, or non-infringement. This website could contain technical inaccuracies or typographical errors. Later updates may modify information currently presented. Neither the publisher nor the provider shall have any liability to any person for any loss or damage caused directly or indirectly by the information or the links to third party sites contained herein.